Get In Touch
Find out what we can do to help you with your finances. Get in touch with us today!
Contact us
Our Approach
Initial Meeting 
At the initial meeting we will ask lots of questions to understand what you are trying to achieve and whether we can help. It's also an opportunity for you to find out what we do, what our charges are, and to ask any questions you might have.
Goal Setting  
Gather all of the information we need to understand your current financial situation and clarify your short, medium and long term goals.
Research & Analysis
At this point we will carry out a review of any existing plans you may have and research the market for the most suitable options available to you.
Report and Recommendations
We will provide a report outlining all of our recommendations. We will go through this together in detail, ensuring you understand all of the steps in the process.
Implementation
If you decide to proceed with our recommendations, we will work with the product and investment providers to put your financial plan in place.
Ongoing Reviews
We will monitor your portfolio on an ongoing basis and provide reviews at pre-agreed intervals. This review process is vital in ensuring that your plan is on track to meet your objectives and in order to maintain tax efficiency.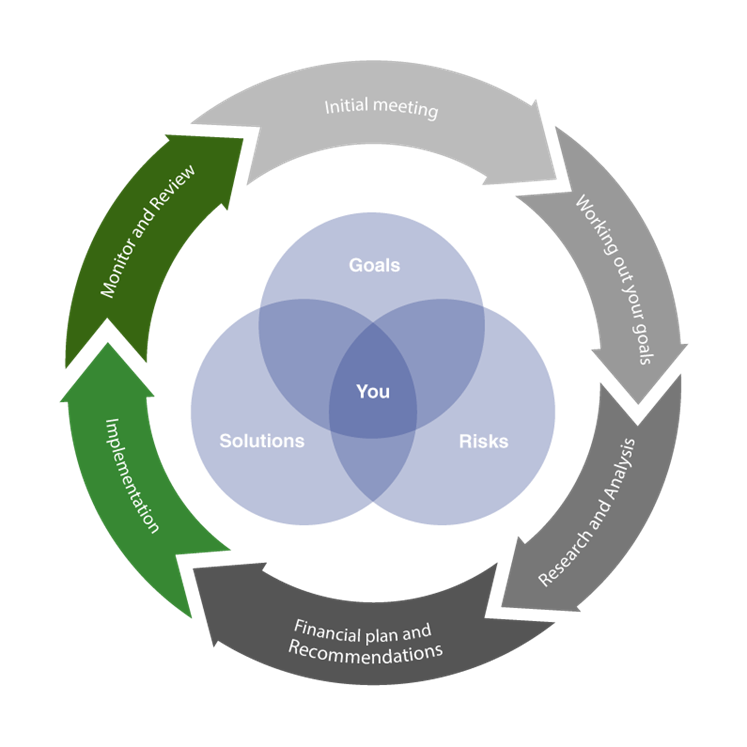 .